Ayant été un succès la saison passée, Nike a décidé de renouveler sa gamme City Edition rendant hommage aux villes des franchises NBA. Voici le maillot Vice Nights du Miami Heat !
Le club a de plus crée un évènement spécial autour de ce thème !
Quoi de mieux que la célèbre série des années 80 « Miami Vice » pour représenter Miami ?
C'est le thème qui a été choisi par la franchise et Nike pour l'édition spéciale 2018-2019 City Edition.
Ce super clip vidéo a été publié sur les réseaux sociaux avec « In the Air Tonight » de Phil Collins en fond sonore.
We can feel it… coming… in the air, tonight.

Midnight, tonight, to be exact. Midnight Madness inside @AAarena! Be amongst the first to get your #ViceNights gear and see our new Vice court! pic.twitter.com/Eu9QN4ogBM

— Miami HEAT (@MiamiHEAT) 8 novembre 2018
Le maillot sera porté 15 fois cette saison sur les parquets NBA à commencer par cette nuit face aux Indiana Pacers.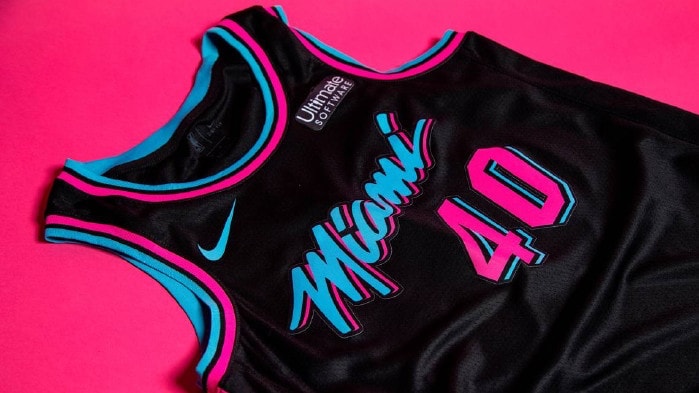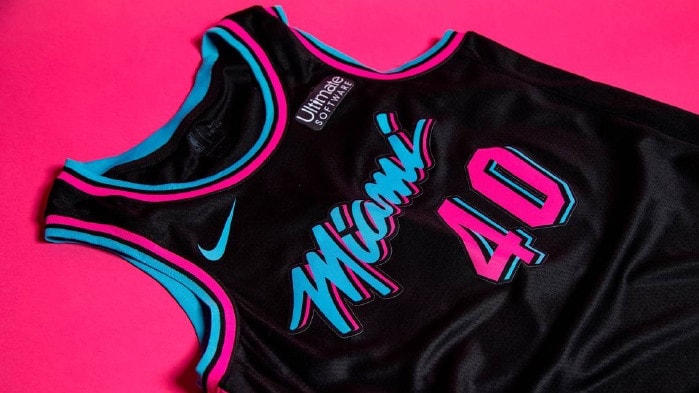 Les franchises NBA toujours au top de la fan experience
Le Miami Heat a décidé d'aller beaucoup plus loin que la simple sortie de nouveaux maillots.
Ils ont en effet crée un évènement autour, une nuit spéciale appelée Vice Nights.
Les fans ont pu rentrer dans la AA Arena pendant la nuit pour prendre des photos sur le parquet décoré sur ce thème.
En plus de faire plaisir à ses fans, les photos prises par ces derniers font la promotion de cette opération et donc de ce nouveau maillot qui sera à n'en pas douter un best-seller à Miami pour Noël.
Assurément au top de la fan experience !
You didn't think it would be THIS good 😉

Be amongst the first to see our new #ViceNights hardwood AND take a photo with it, right here inside @AAarena Thursday night at midnight! https://t.co/8ktA13fdj8 pic.twitter.com/C9qJaitS9S

— Miami HEAT (@MiamiHEAT) 6 novembre 2018